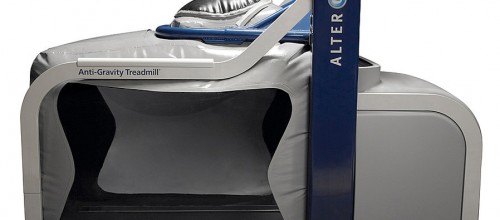 Elevate your Performance
The AlterG® Anti-Gravity Treadmill® Pro 200 enables athletes to train harder and enhance their physical therapy experience. With the Pro 200, you can:
Maintain and develop fitness while recovering from an injury.
Achieve a higher level of conditioning without putting extra stress on your joints and muscles.
Use the Workout Programmer to plan and conduct automated training programs
Recover faster after a game, race, or hard workout – "active recovery"
Track progress clearly and easily.
Develop the confidence to push yourself harder during training and rehab.
Athletes First
The Pro 200's anti-gravity therapy is designed to suit the needs of high-level athletes during physical therapy from a sports related injury or surgery. It also helps healthy athletes train harder. The reinforced structure and higher top speed make the Pro 200 an essential addition for any athletic training and sports physical therapy facility.
The Ultimate Training Partner
With the support of the AlterG Anti-Gravity Treadmill Pro 200, you can push yourself further than otherwise possible during your training, conditioning, and recovery. Anti-gravity training on the Pro 200 allows athletes to:
Rehabilitate post-injury or post-surgery
Reduce impact during plyometric and strengthening exercises
Plan and execute custom training sessions with the Workout Programmer
Complete biomechanical training—lateral, backwards, and form drills
Conduct over-speed training and leg turnover
Safely increase weekly mileage
The AlterG Advantage
Top-level collegiate and professional athletes are already training with the AlterG Anti-Gravity Treadmill Pro 200 to maximize their performance. Sports facilities with the Anti-Gravity Treadmill include:
Washington Wizards
Texas Rangers
Golden State Warriors
University of Nebraska
New York Jets
University of Louisville
Green Bay Packers
University of Texas
Arizona Diamondbacks
University of Southern California
And many more.